How To Make A Zine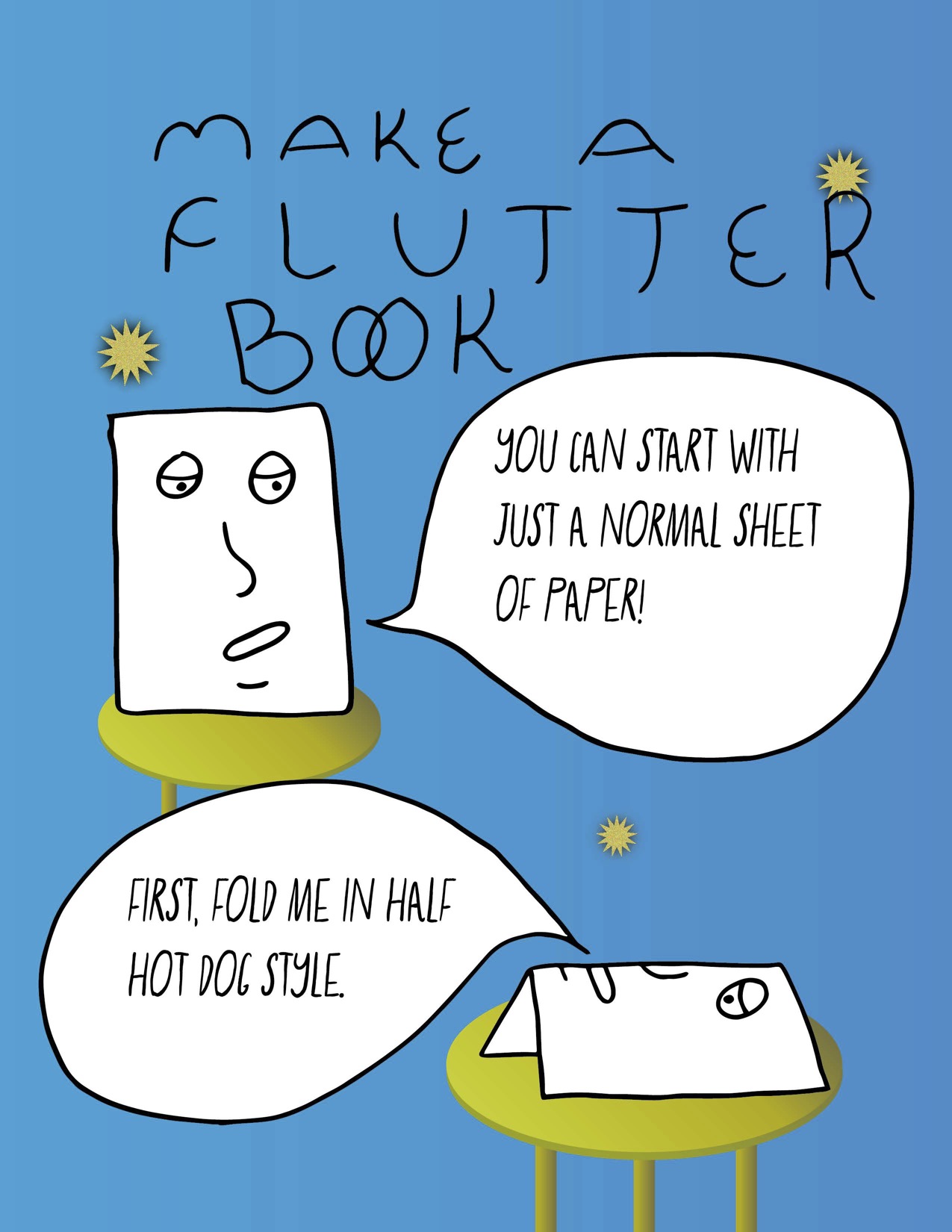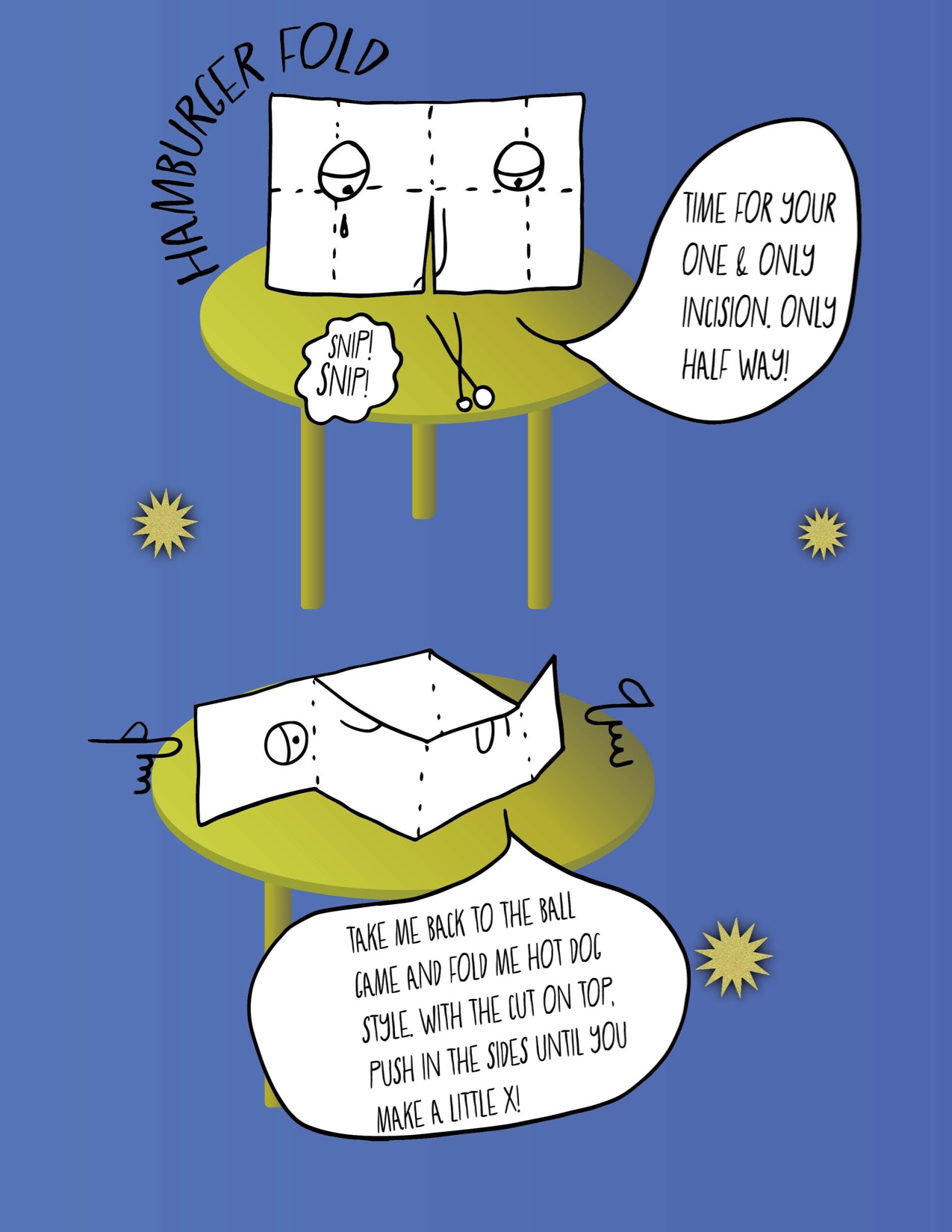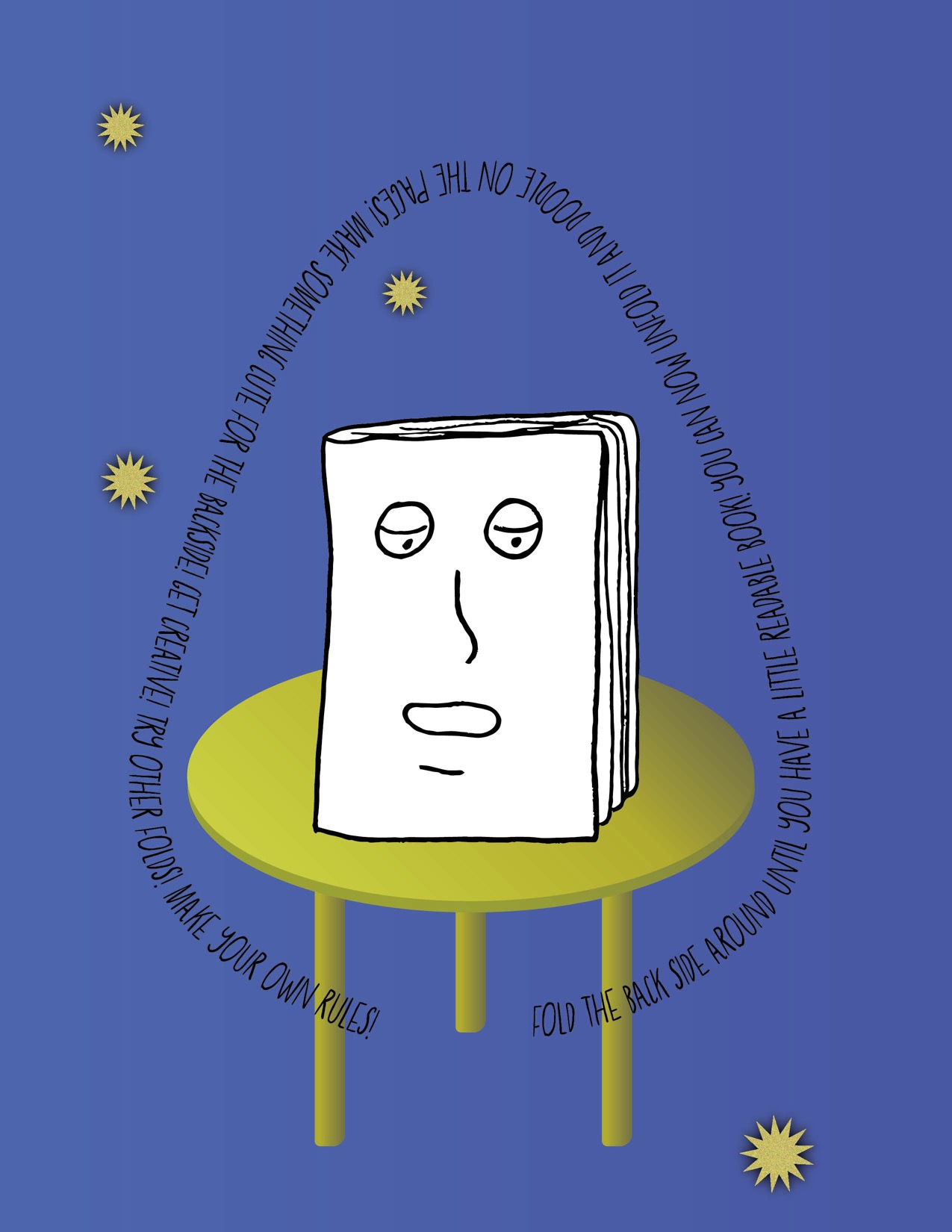 Zine Reviews

By Jessie H.
Fuck Right
is a zine of short imperatives (the first of which is the title), and oozing illustrations. , It's made of two folded and stapled 8.5 x 11 sheets of paper. Text and illustrations are red; background textures are green. One page reads simply "TEETH," the drawing of a tooth between each letter. Sexy. I got the eighth copy and enjoyed chatting with the artist. I assume Ahndhi has more copies, but I can't find them on ahndhi.com - maybe you'd like WITCH instead, "a spooky story about a child-eating witch and her brood of crows." Ahndi's based in Athens.


I keep misremembering Avery Hick's zine
Trucks Need to be Stopped
as Trucks Must Be Destroyed. Avery is convincing and I am on his side. In this 32-panel joke, an exasperated driver theatrically muses: "Sure would suck if a huge truck, with industrial-grade retina destroyers came along and blinded me perfectly in both eyes!" I love how the zine's pages are the size of one panel, so that, as we flip each page, the story's inevitable outcome slowly overtakes the driver. Avery (@averyhickart) is a student at SCAD.
ZINES ARE NEAT
is a freebie I got at Mild Pain's table. This is a very simple 8-panel ½ pager that defines and tells us how to pronounce "zine", ensures us that zines can be about anything, and includes instructions. Mild Pain is Abby Kacen, she's from Athens and, it looks like, is currently based in Cincinnati. She has lots of comics for sale at mildpain.bigcartel.com. Her zines are also for sale at Wuxtry - unless they're sold out ;)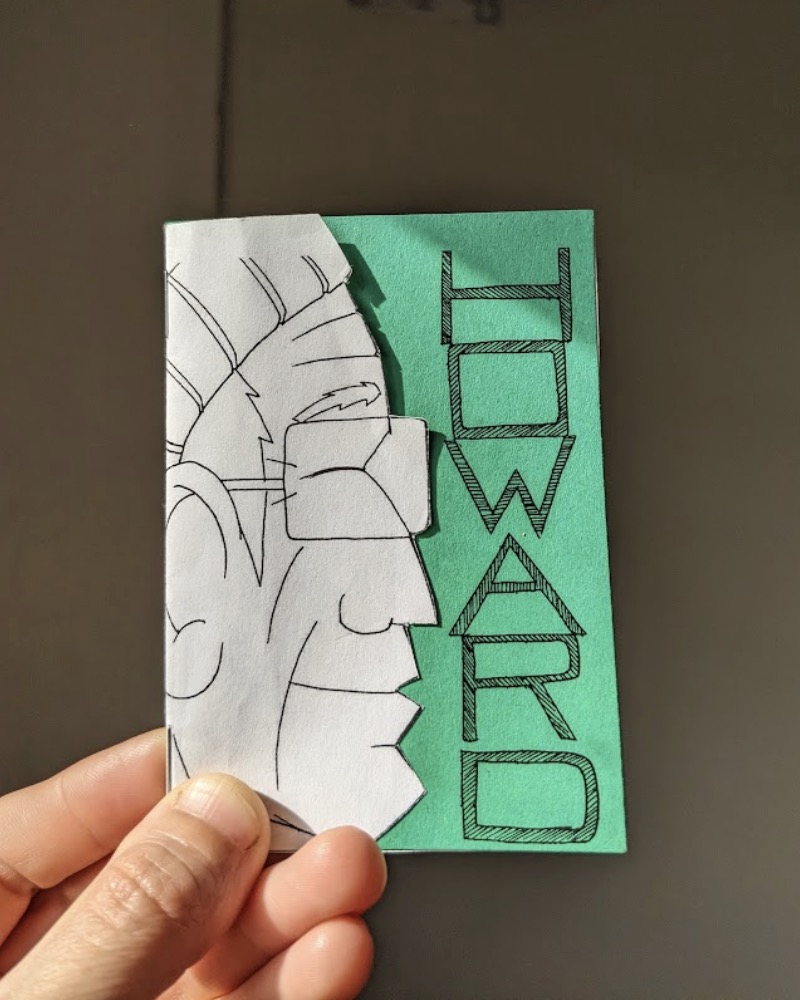 Creature Zine
by various
artists


A three-page, folded, stapled, hot pink pamphlet, Creature Zine features 10 artists and caught my eye because, well, it's hot pink. Inside, there's a variety of media and tonal registers, but all of the work deals in some way with the creaturely.

A photo shows a sculpture of play-doh-like clay mushed around a plastic flamingo head into a not-quite-bird, not-quite-human body. The whole figure leans kind of limply, kind of devil-may-care against a wall and regards us with a blank (or is it amused?) expression. Another contribution, an illustration that reads, "how to be a/creature" is made of 6 panels which can be read sequentially or as one image. In this piece, I love the balance that the panels achieve - some are black, and some are filled with marks that give the sensation of a sort of lapping, undisturbed movement.

I especially liked that the artists were listed on the back cover, which saved the pleasant surprise of knowing one of the artists, Nate, for last. He told me that Joy, @gizmosfunhouse, organized Creature Zine. From what I could tell, the artists are UGA students or, now, recently graduated.
Howard
by Ares Alpha/Trevor Pledger


I picked Howard up because of its design. This four-page, folded, stapled minicomic about Howard Finster is printed on white paper. It has a green cover, and then a final white sheet on top of that. On the white cover sheet, Jeremy's drawn Finster's face in profile, and then xacto-knifed it out. So, half of the cover is Finster's face, and the other half is the green sheet, where the title's printed. On the back side of the zine, Jeremy cut out a triangle so that his logo (green) pops out. Simple and effective!


The story's about how Finster started making art and is rendered in three slender horizontal panels per page. On the last page, the three panels merge to give us literally a broader view of the artist's life and work. It looks like Trevor's been inactive since 2013. If you're out there, Trevor, thanks for giving this writer an occasion to write!
Plant_Based: When Being Vegetarian isn't Enough
by Stef Sadler and Sally Madden
On first read, I didn't recognize Plant_Based for what it was. I could tell that Stef Sadler & Sally Madden's "bootleg preview," which I picked up at Fluke, was about a pair of swampy misfit superheroes, but I knew I was missing something. I read a couple more times and eventually googled "Poison Ivy," which seemed like a familiar name, and then "Swamp Thing," and then, finally, made my way to Stef and Sally's Patreon.
In the zine's first half, an angry and scared Poison Ivy rescues a baffled, amiable, vulnerable Swamp Thing. In the second half, the pair travel to the city, where Poison Ivy is still angry and scared, but she's also much tougher, because Swamp Thing remains sweet and vulnerable. As they walk in the city, Swamp Thing notices that people are terrified of them, and points out that plants growing in the cracks of the sidewalk bloom as he and Poison Ivy walk near them.
Plant_Based is two 8.5x11" sheets of paper folded and loosely bound with an orange string. The panels are cool, especially in the first half, where they lengthen to show Poison Ivy plunge into a lagoon, and contract, to show an aerial view of her breathlessly emerging with Swamp Thing in tow. In a moving scene, Poison Ivy asks Swamp Thing, "What if/I hadn't//Found You//What Happens/Then?" The text stretches across three panels, which show a looming cloud dropping rain and a large, fruit-bearing tree.
I feel like I should have something insightful to say here about these Marvel superheroes reinvisioned as two tender but crime-fighting shoots, but I don't really. It just feels really fun!
In the city, the pair kills a guard, gains access to a serious-looking building (we can just make out the word "industries" across the front), and meets an unfamiliar, cute, sentient machine. The story is, of course, to be continued. Subscribe at
https://www.patreon.com/dearsallymadden
for the rest.
After Oppenheimer
Reviewing "Call of the Sirens: Air Raid Sirens of Los Angeles County"
Garret Izumi, 2002

The Athenaeum held its first art book fair in June. I was in Durham, so I dispatched a friend with some cash to pick up zines. In the pile he brought back, I found a comb-bound book, "Call of the Sirens: Air Raid Sirens of Los Angeles County, " which at the time of its publication contained memories from 20 years ago, and that is, itself, now 20 years old.


The spare text and black-bordered photographs are arranged in a standardized layout (text on the left page, photographs on the right). The tone is quiet and informative. "From World War II through the Cold War," we learn, "200 sirens were erected in the greater Los Angeles area."

The book begins with the sirens whose songs lured sailors from their boats. Like the ancient sirens, the contemporary sirens resemble the human form - these are upright, and furnished with apertures for sound, which suggest a front and a back, something like a gaze. Reading, we learn that, as a child, our narrator crouched with the rest of his class in a "doomsday pose" when the sirens went off every last Friday of the month.


I read this book in the Atlanta airport, and imagined that the moment Izumi became aware of the sirens again, as an adult, might have been kind of like the experience I was having, finding myself in the airport again, carrying myself through Hartsfield, again, and realizing how my life is part of a place that I didn't make or choose and yet recognize and am a part of.

The book's final photograph shows a siren on a beach, "facing" north. The camera is pointed west, considering a parking lot, a stop sign, and a man working on a car. And, of course, the still ocean, and the distance, which is finite, even if we can't imagine it.



For the Love of Friends
Reviewing "Matrix & Sleepover
Neve"


Also in my friend's pile of zines from the Athens Art Book Fair were two mini-comics by Neve: "Matrix" and "Sleepover." These were printed with a Risograph machine.


"Sleepover" is longer, a story about a group of friends teasing one another and ultimately ending up in bed together. "Matrix" is shorter and looser and takes place entirely in bed. There are no panels, just a few narrow, stapled pages and, where there are four friends in "Sleepover," there are two in "Matrix." The tone in both is playful and tender, which is complemented by the fuzzy violet and pink that the comics are rendered in.

There are notes at the end of each comic. Sleepover's note is teasingly understated, "In this mini-comic four friends catch up and have a sleepover." Matrix's is cavalier: "What I imagine the important thematic content in the matrix movies probably boils down to… (I haven't seen them)."


This easy attitude is the main accomplishment of these mini-comics, and an attitude that, I think, is most achievable when in the company of good friends.


What's a zine for?
Reviewing "Comedy Zines: Phil Hanley"
Jason McLean, 2023

At around the same time as Athens' Art Book Fair, a friend went to New York and mailed me a zine from Printed Matter. There were a few formatting ideas in it that I thought were really handy.

The series is called Comedy Zines and the theme is stand-up comedians the writer finds on Youtube. This issue is called "Ooh La La!! I cant draw" and focuses on Phil Hanley - this information is on the cover. When we get to the centerfold (staples), we find the title of the series and other details: Jason McLean, 2023, 2nd printing, 3/10, NY, @libbyschnauzers. This is a great way to store information and bring attention to it, without taking up the front or back cover, where you may want to do other stuff, and with the added room of the two-page spread.


Jason's zine also has blank pages throughout, which my friend used to write me a note. I'll use this later to write notes to the people I send my zine to, because it strikes me as a neat, built-in way to address a specific person in a multiple.


Comedy Zines belongs to the "just fucking around" family of zines. The subtitle on the front is "I can't draw" and the writing inside seems to be a mishmash of some quotes of Hanley's and McLean's thoughts. I think this approach has to do with making something that's about having fun, or just riffing, which is a good thing for a reviewer to think about.


Hopefully this column isn't just a space to sell zines, but also a space where I think about the different things that zines can be and do - which is why I'm lucky to have friends who send me things I'd never pick up on my own.